Guangzhou Ingor Sportswear Co.,Ltd which more than 10 years experiences in the industry of active wear.We were pleasured to hold an exhibition in Australia on 14/11/2017 this year.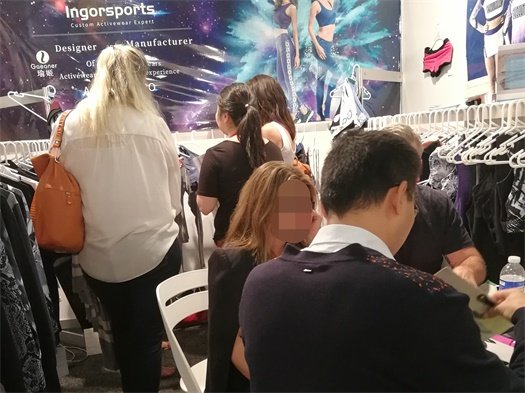 The things all we know,as a quickly developing company,cooperating with many famous brand in AU,USA ,etc.We all cherish every opportunities that we could have a wonderful chance to communicate with a lot awesome business man/women.For this exhibition,We got in touch with all of the customer who contacted us on the official website before and we also sent the invitation email to our customer. It's much pleasured for us that our customer willing to give us a chance to make a nice communication on 14th 11,2017.
We are here sincerely willing to offer the most wonderful services and the best quality to our customer.We could also be the best friend with our customer because we believe that we could make a long-term relationship with our customer,not only the business partner,but also can be the best friends!
It spends almost three months more in order to prepare the exhibition.From made our new design to took the new album for our yoga clothing catalogue. Much thankful for our guys! Your energy is beyond your imagination.
Focusing on the best quality and offer the best services to all of our customer--Guangzhou Ingor Sportswear Co.,Ltd.