For the sports enthusiast, finding the correct pair of yoga leggings is very important. You want a pair that will not only look good but provide you with the right support and breathability during your work out.
Here at Ingor sports we area passionate about providing our customers with high quality, professional yoga leggings.
The right pair of yoga leggings will be sure to make you feel fantastic and with so many designs to choose from, there is a style to suit every taste. Not only are they ideal for working out but they can serve a dual purpose for times when you want a comfortable item of clothing for things like travel.
Whatever design you prefer, we have something that you will love. From our blue floral patterned leggings to our high waist black leggings and everything in between. You style does not have to be compromised when you are indulging in your yoga session.
Our high quality yoga leggings have been specially crafted for maximum comfort, ensuring that you will never experience and rubbing or chaffing whist wearing them during your work out. They are also made to be super stretchy using a high weave in the manufacturing process meaning that they will fit and adapt to movement perfectly.
Our high waist Spandex leggings feature an adjustable elastic waistband so that you can find the perfect fit for you.
The black yoga leggings are sweat absorbent so that no matter how heated your work out becomes, you will always feel dry and comfortable Nobody wants to feel sticky. The yoga leggings are lightweight giving you that extra comfort and freedom while you wear them. The leggings are made with the highest quality of stitching, which ensures a long lasting and durable product, and the design is laser cut for the best end result.
Why not try our floral mesh yoga leggings? These beautifully patterned pants feature, once again, high quality stitching using four needles so that you can be confident that the legging will not rip or tear during your exercise routine. They feature a discreet, hidden pocket making them ideal for going out to a yoga studio and having the space to keep your phone or some loose change. The fabric has an SPF of 50, if you wish to work out outside, you know that your skin will be protected from the rays of the sun.
Our grey active wear fitness yoga leggings look and feel great when worn. They are made from Spandex and polyester making them super stretchy and comfortable and feature an attractive orange logo.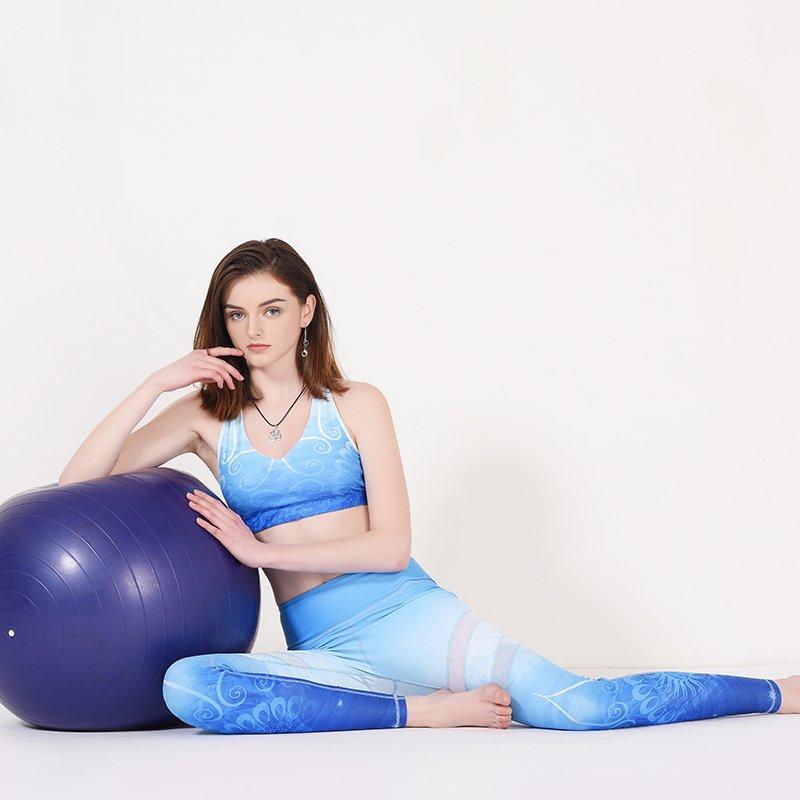 We also offer the running high waist yoga leggings which have an attractive pattern around the knee, making them stylish as well as comfortable. Soft to the touch and extremely lightweight, these leggings will provide you with the ultimate comfort during your exercise routine. One of the greatest features of these pants are that they are germ resistant making them very hygienic. No effort is spared in the making of the leggings, where we use that high quality stitching that we have mentioned previously to make sure that the leggings are durable and will not rip or tear.
All of our yoga leggings are made to the very best standard and will provide you with the ideal outfit for your workout. Whatever your taste in design, whether its plain or something a little more patterned, we have something for you. Comfort and quality is never compromised and we are sure that you will be happy with your new yoga leggings.